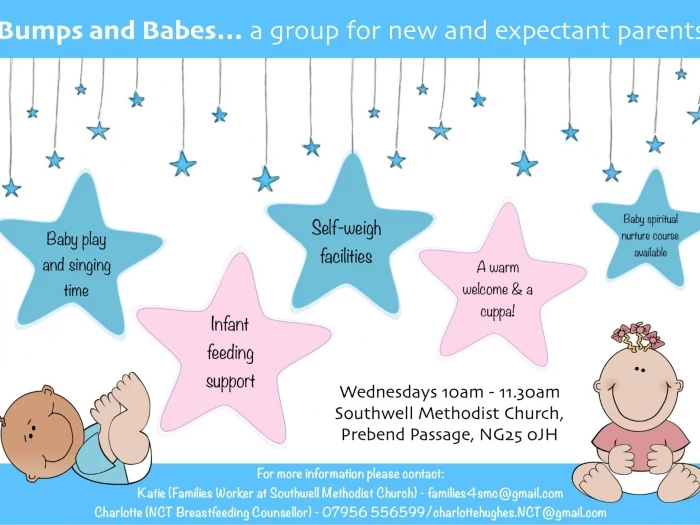 A group run especially for new parents in the community. The group is aimed at parents/carers with babies up to 12 months old, but we understand that you may need to bring older siblings with you. They are very welcome but the needs of our babies will come first.
We are started 'Bumps and Babes' as a result of listening to the needs of our community and observing a withdrawal of this kind of provision in Southwell over the past few years. We hope that this free-of-charge group will help you feel cherished and supported both practically and spiritually at this exciting, yet challenging time in your life.
All are welcome to access this group with hot drinks available throughout, a friendly welcome, the support of qualified NCT breastfeeding counsellor, Charlotte, and an opportunity to self-weigh your baby. There will be plenty of toys available for babies who love to explore!
In the future we will be offering a 'Starting Rite' course which is a beautiful spiritual nurture course for babies and their par-ents. This is completely optional and spaces will be limited. If you would like to reserve your place or ask for more infor-mation, please email Katie our families worker.
If you would like to speak to Charlotte regarding infant feed-ing support, you can contact her by telephone on 07956 556599 or by charlottehughes.NCT@gmail.com