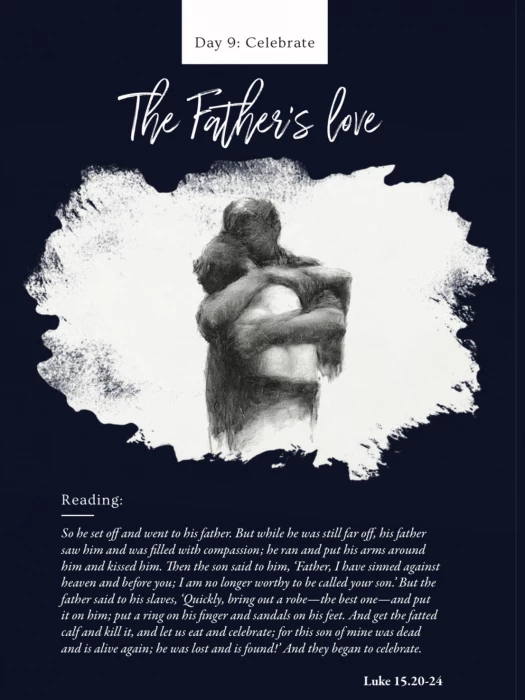 Reading:
So he set off and went to his father. But while he was still far off, his father saw him and was filled with compassion; he ran and put his arms around him and kissed him. Then the son said to him, 'Father, I have sinned against heaven and before you; I am no longer worthy to be called your son.' But the father said to his slaves, 'Quickly, bring out a robe--the best one--and put it on him; put a ring on his finger and sandals on his feet. And get the fatted calf and kill it, and let us eat and celebrate; for this son of mine was dead and is alive again; he was lost and is found!' And they began to celebrate .Luke 15.20-24
Reflection:
How joyfully God welcomes us back!We can have such skewed ideas of Godas an angry dictator or fault-finding headteacher. But actuallyGod's attitude towards us is compassion and grace. Even when we are far away, God is willing to run and meet us, the way this father did.
Look how it says, 'while he was still far off ': the father didn't wait for the son to come all the way to him, but he went and made up the distance. God does that. God doesn't just wait. God comes out to us in love and stretches out loving arms in welcome.
God is moving down the road right now, stretching out loving arms, waiting for your friends to come home.
Prayer:
Loving God, please get my friends on the road where they see you running to meet them. Thank you that you welcome us with joy, however distant we are, however long we've been away.
Action:
Think of how you have been hurt by someone, or disagreed with them. How could you reach out your hand and meet them where they are, rather than expecting them to come to you?


Adapted for website and FaceBook purposes from material written by Thelma Commey (Methodist Youth President 2019/2020)